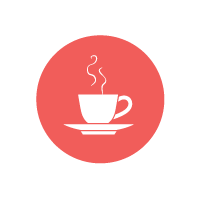 Café Fleur, Sligo Town
A small busy café deli serving top quality coffee with a huge range of quality meats and cheeses. We use organic/ fairtrade where possible.
Open: 7.30am-6pm Mon-Fri, 8am-6pm Sat
O'Connell Street, Sligo
T: 071 9144406 / E: info@cafefleur.ie
Hearts Desire, Sligo Town
Hearts Desire is an award winning barista bar and to accompany your favourite beverage we also dish up quality sweet and savoury snacks and lunches, mainly sourced from local artisan food producers.
Kates Kitchen
Located in the heart of Sligo Town, we pour FIXX coffee and serve homemade lunches which are available to sit in or takeaway. Our shelves are packed with Artisan food and wine, lifestyle gifts, cosmetic luxuries and bespoke hampers which can be made to order.
Signature Dish: Kate's Homemade Scones
Open: 8.00am-5.00pm Monday to Saturday
3 Castle Street, Sligo
T: 071 9143022 / E: info@kateskitchen.ie
Le Fournil, Sligo Town
Le Fournil Bakery, owned by Patissier and Chocolatier Clotilde Rambaud and Tomasz Giderewicz, is located in Tobergal Lane, the heart of Sligo town. Le Fournil is a French patisserie, chocolaterie and boulangerie. Once you go through the door, you will find yourself in "dessert heaven". Le Fournil offers a wide range of homemade patisseries and cakes to bring home or to enjoy with a good cup of organic and fairtrade coffee. You will be able to purchase delicious award winning chocolates. Clo's chocolates are made in the premises,using only the finest ingredients. All the breads are freshly baked every day. From a traditional baguette to sourdough bread.
Open: 10am-6pm Tuesday-Saturday
Tobergal Lane, Sligo
T: 071 91 49807
Lyons Cafè, Sligo Town
Lyons Café is a 1920's tea rooms with a rich history, in the heart of Sligo town. Gary Stafford continues to develop interesting, wholesome, fresh dishes year after year alongside classic favourites that his loyal customers love. Open from early morning serving breakfast through to lunch and into the afternoon. There's a couple of cookbooks too!
Open 8:30am serving breakfast, brunch and carvery lunch.
Ósta Café & Wine Bar, Sligo Town
Ósta Café & Wine Bar is an award winning café on the banks of the Garavogue river right in the centre of Sligo town. Well known for its exceptionally friendly welcome, high standard of locally produced light meals and home baking, Ósta Café & Wine Bar also is famous for its coffee – freshly roasted, ground to order and prepared by our trained Baristas. Enjoy food all day from a 30km breakfast to delicious local dishes to accompany a glass of wine. Sit outside by the river (blankets provided if it's not so warm!) or if you can't stay – Ósta To Go next door is perfect to pick up delicious coffees, soups, salads and sandwiches – it is also a great place to find local speciality foods! Featured in Bridgestone Guide and Georgina Campbell Guide.
Open: 8am-7pm Mon-Sat, 9am – 5pm Sun
Stephen Street, Sligo
T: 071 91 44639 / E: ostacafe@gmail.com
Sligo Wellness Centre and Health Store

At Sligo Wellness Centre, we provide only ORGANIC food and drinks. All our food and drinks are freshly prepared daily. We sell organic Coffee, Homemade Fresh Breads,  Granola, Frittatas, Lasagne's, fresh salads, a daily special and Raw cakes and much more.
We take pride in sourcing all our ingredients (local if possible) using 100% organic only.
All our food is Vegetarian and lots of it is Vegan.
We have an invested interest in creating all our food as healthy as possible aligning with the principles of The Wellness Centre, where food is considered our first form of medicine.
Open: 9am-6pm (Monday-Saturday)
1 Wine Street, Co. Sligo
T: 071-9153828 / E:sligowellness@gmail.com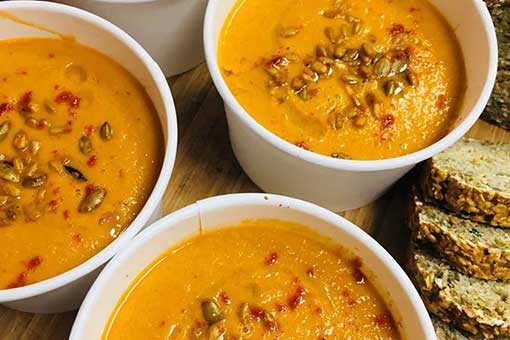 Sweet Beat Cafè, Sligo Town
Plant based cafè serving vegan friendly dishes alongside raw superfood salads, energising smoothies and tasty treats.
Open: 9am-5pm Monday-Friday, 10am-5pm Saturday
Bridge Street, Sligo
WB's Coffee House, Sligo Town
A hidden gem in the heart of Sligo serving beautiful Italian coffee, freshly baked scones, cakes, wine and lunch in a family friendly relaxed inviting environment surrounded by local art.
Open: 8.30am-6pm Mon-Fri, 10am-5pm Sat
Stephen Street, Sligo
Drumcliffe Tea House & Craft Shop  
Established since 1988, Drumcliffe Tea House & Craft Shop offers an authentic choice of locally sourced ingredients focusing on light meals & wholesome soups alongside a selection of homemade scones, breads, tarts, cheesecakes, fruit crumbles and much more…Our coffees are freshly ground to order and served by our trained Baristas. Enjoy cheerful service in our relaxed atmosphere surrounded by a distinctive collection of original local crafts, Yeats and Irish interest books.
Lissadell House & Gardens

Immortalised by the poet W.B. Yeats, childhood home of Countess Markievicz, Lissadell is the crucible of Ireland's historic, literary & garden heritage. This year we focus on the First Dáil Éireann (1919 – 1921) in which Countess Markievicz served as a Minister. Her portfolio was Labour. In December 1918 Countess Markievicz had become the first woman elected to the Westminster Parliament, but refused to take her seat in Westminster as – having risked her life and liberty for Ireland's freedom – she believed that Ireland should rule itself, and not be governed by a foreign power. She became a member of the first Dáil in January 1919, and accepted Ministerial portfolio, thus becoming the first woman cabinet minister in a modern Westeern European democracy. Countess Markievicz was a minister on the run, as Ireland did not achieve independence until 1921. She hid her cabinet papers in her piano.
The tea rooms at Lissadell provide lovely home baked food, cooked in our own kitchens; beautiful soups and salads from our own vegetable garden, and delicious golden pastries, tarts, cakes and cheesecakes for all tastes.
Whether you want to take five, a morning coffee or tea, a hearty lunch, Afternoon Tea, or simply relax over a glass of wine in the evening sunshine, Lissadell Tea Rooms is the place for you.
Little Cottage Café, Rosses Point
We offer simple tasty, quality food in a comfortable setting along the promenade in Rosses Point. Old fashioned cakes and gluten free options compliment a menu, which has been carefully created to include producers and suppliers from the Wild Atlantic Way. At the Little Cottage cooking with quality ingredients, producing honest food and creating a pleasant experience is what we do best.
Mammy Johnston's Ice Cream, Strandhill
A trip to Strandhill wouldn't be complete without a well deserved treat at Mammy Johnston's Ice Cream Parlour situated on the seafront with indoor and outdoor seating.
Open: 10am-9pm. Check winter hours
Shore Road, Strandhill, Co. Sligo
T: 087 2634227
Nook Café & Restaurant, Collooney, Co Sligo
Nook is a modern eatery in Collooney, 10 minutes outside Sligo Town. This venture by award winning Chef Ethna Reynolds focuses on using local & Irish produce to create upmarket comfort food as well as hand roasted 'Art of Coffee' coffee, roasted in nearby Leitrim. This eatery offers a unique experience unlike others in the Sligo region, with the Menu altering each month to blend with the best of seasonal produce and allowing the showcasing of local & national artisan producers as well as new upcoming food start-ups. This changing Menu offers customers the chance to try new products from Irish suppliers such as farmhouse Cheeses, Artisan Charcuterie & quality meats as Ethna is a keen supporter of new and established food producers who will always have a place on the Menu.
Open: 9:30 am-5pm Tues-Sat
Main St., Collooney, Co Sligo
T: 087 352 2135
Pudding Row, Easkey
A cosy café in beautiful Easkey Co. Sligo. Artisan Bread and pastries and local organic produce are all homemade by Dervla beside the sea.
Open: 7 days a week 9:30am to 5pm
Main Street, Easkey, Co. Sligo
T: 096 49794 / E: hello@puddingrow.ie