Is your Christmas party a big corporate affair with all the trappings of a traditional party night out? Perhaps it's just a dozen people who work together … or your sports team … or your book club … or maybe just a group of friends. The good news is – whatever size or shape your Christmas party takes you'll find somewhere on Sligo Food Trail to suit just perfectly. For the perfect Christmas present, consider gift vouchers – ideal for even the most challenging 'person who has everything'.
The Draft House
In Strandhill, gastro pub The Draft House has a scrumptious Christmas set dinner menu throughout December costing just €34 with a complimentary glass of mulled wine. The menu name checks lots of local producers and suppliers – Sheerin's Meatin' Place, Andarl Farm and Sherlock's Butchers.
Also available is The Ultimate Christmas Package with transport 'on Santa's Sleigh' from Sligo town and back. Meet at 5th on Teeling and enjoy a cocktail from the Christmas Cocktail List before Santa's Sleigh ferries you to The Draft House where the waiting elves welcome you with a delicious warm Christmas punch. Enjoy music by Kelesa followed by a three course festive banquet. Before the clock strikes midnight, or anyone turns into a pumpkin, you'll be whisked back to 5th on Teeling for a glass of bubbles in plenty of time to dance the night away. It's available for parties from 4 to 100 at just €55. The dates are December 8th, 9th, 14th, 15th, 21st, 22nd and 23rd.
Laura's of Carney
The little piece of Italy that is Laura's of Carney is holding their Christmas Party on Friday 22nd December at 9pm. Live music, mulled wine and finger food plus a big Christmas raffle make this a date not to miss. Laura's is taking dining reservations on Christmas Eve from 1-6pm only. After 6pm, it's pub drinks only.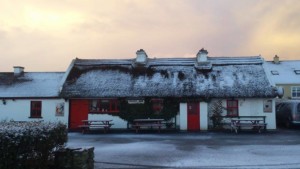 The Beach Bar
The charming thatched Beach Bar in Aughris have chosen Saturday 23rd December for their Christmas Party. The cost is €30 per person. They promise a holiday menu all day from 12 noon until 8pm and live music with The Céide Boys at 9.30pm. There's a charity raffle in aid of TARA for a hamper worth a whopping €200. If you'd rather have your Christmas party on a different night, contact them for details of their special Christmas menu.
The Radisson Blu Hotel
At the Radisson, Christmas Party Nights are Friday 8th, Saturday 9th and Friday 15th December. It's a five course dinner affair with a top up of wine. Watch out for the local Sligo baked ham on the Christmas themed menu. The meal is followed by live music from Déjà Groove and DJ Scruffy Duffy and the amazing Radisson Blu Safe Cracker with lots of prizes to be won. That's just €43 per person and a party night b&b package costs from just €82.
Christmas lunches and dinners are served all through December. They're perfect for office, club and group celebrations. Lunches are from €16.50 and dinners from €33.
The Clayton Hotel
The Clayton has three Pegasus Party Nights – Saturday 9th, Friday 15th and Saturday 16th December for just €39 per person. Festivities begin with a welcome drinks reception at 7pm and continue with a delicious four course meal with entertainment featuring the Cube. Live  music with Sinead Conway and Band followed by a DJ means everyone can party the night away and win some spot prizes too. From only €40 extra stay overnight and forget those taxi hassles.
Smaller groups will enjoy a two course pre-Christmas lunch in Bulben's Bar & Bistro for just €20 which includes a festive glass of bubbly, wine or beer. Office drinks at just €17 include festive finger food, two drinks each and prizes for the best Christmas costume. This suits groups of 15 or more.
Evening dining in Sinergie restaurant for groups of 10 or more feature Christmas themed menus and novelties on tables. Prices start at €25.
For private parties, Canis Major Chapel on the hotel grounds offers an exclusive venue for a minimum of 50 people. All the festive extras you'd expect for just €29 per person.
Cawley's Hotel
In Tubbercurry Cawley's Hotel have some fabulous festive options where you can design your own party or festive afternoon tea. Options start at just €12.50 and the aim is to take the pain and stress away from the party planners. Buffet style, lunches, deluxe dinner and bubbles & appetisers are all there for the choosing. Afternoon Tea with a Festive Twist is a real winner for shopaholics who need to wind down. It's available all through December and a nice note is the 'Princess' option where the smaller guests can enjoy hot chocolate rather than tea or bubbles. Perfect for all the family.
The Glasshouse Hotel
At The Glasshouse, party nights are on Saturday 9th and 16th December, kicking off with a drinks reception at 7.30pm. Next up is a mouth-watering dinner menu with highlights like a Free Range Chicken and Fois Gras Terrine with Golden Sauterne Gel, Walnut and Sunflower Seed Crisp'  and a sensational sounding 'Raspberry Daiquiri Ice Cream' to finish. All this with party games, spot prizes, photo opportunities and live music with Kelesa and the Undercovers, plus a DJ for just €39. Stay overnight from just €30 extra per person.
For more casual parties, Cocktails & Canapés in the View Bar sounds just perfect. On Friday evenings from 6-8 enjoy the Jazz Lads playing in the background to get your party off to a swinging start. Live music makes everyone's toes tap from 8pm on Fridays and 9pm on Saturdays. Choose from Gold (€10) or Silver  (€7.50) Christmas suppers and choose from a delicious selection of bite size deliciousness.
The Sligo Park
Party at the Park promises spectacular party nights on Friday 8th, Saturday 9th, Friday 15th, Saturday 16th and Friday 22nd December. Arrive to a cocktail reception and live entertainment from a Dean Martin Tribute Act with Adrian Cullen/Gerry Grennan & Co. Enjoy a delicious festive five course meal and party entertainment from live band 'Busy Fingers'. Then it's disco time with DJ Seamie Mac until late. This includes wine and costs just €49 per person. Stay over from just €37 per person.