It's fun to tantalise your taste buds during the festive season. It could be a little something to keep you going while you shop, a stocking filler or a cracking Christmas present. Here are a few special suggestions from Sligo Food Trail:
Make the world your oyster – at WB's
WB's Coffee House and Deli Bar is looking fabulously festive with its sparkling Christmas window. It's the perfect spot for a Christmas toast too – with a glass of Prosecco and some delicious Wild Atlantic Oysters. Now that's a celebration and a great way to start any party night out!
To beat the chill, try one of their festive hot drinks – Hazelnut Hot Chocolate perhaps or a latte or cappuccino deliciously flavoured with  Gingerbread or Toffee Nut. Mmmmm.
Yule logs at Lyons
Super seasonal Yule logs are given a quirky twist at Lyons Cafe and Bakeshop. How about the exotic Winter Berry & Pistachios Dacquoise Yule Log? (That's winter berry bavarois on a pistachio sponge biscuit.) Or a rather more self explanatory Salted Caramel Crème Brulée Log – who could resist a caramel mousse wrapped n a vanilla crème brulée on a rice krispie chocolate base, all coated in a salted burnt sugar caramel. If that doesn't tickle your fancy, perhaps a sumptuous dark Chocolate Royale Log or Chocolate & Raspberry would do the trick.
Of course they have traditional home baked goodies too – rich Christmas Cakes cunningly disguised as Santa or a Snowman, Mince Pies laced with rum, cheerful gingerbread men and a delightful gluten free Winter Berry Crumble. Make sure to order yours in advance!
Stocking fillers from Le Fournil
Chocolate is a traditional element in every Christmas stocking but only the lucky ones get these beautiful stocking fillers from Le Fournil. Dark or milk chocolate Santa Clauses delicately gilded in gold, snowy white Christmas trees with a glistening sheen, chocolate Christmas tree baubles – or for something completely different, a bright red chocolate stiletto shoe! Is there anything they can't make from chocolate?
Le Fournil also bake beautiful chocolate coated Yule Logs, a delightful selection of festive cakes all perfectly decorated, mince pies and of course traditional gingerbread men too. Mini gingerbread men have even been spotted on their special Friday doughnuts!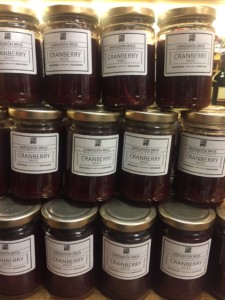 Smart foodie gifts from Hargadon Bros
This Michelin listed pub is a cosy hideaway on cold December days – now you can do some Christmas shopping without even going outside! Have you seen their classy range of branded jars and bottles – Cranberry Sauce, Dressings, Toasted Sunflower and Pumpkin Seeds, and many more besides. You can order your Christmas Hampers and of course choose from the huge range of wines.
It's all available in the shop accessed through the back of the pub – how perfect is that?
Hampers Galore
Everybody loves a hamper – it's the present that just keeps on giving. Many Sligo Food Trail members offer fabulously presented hampers. As well as WB's and Hargadons mentioned above, both Murson Farm (who are at the Quayside Shopping Centre Christmas Market for the month of December) and The Wine Buff have a lovely selection of hampers to suit all pockets.
Hope your Christmas shopping just got a little bit easier!